This Special Event is Sponsored by the Pierre Claeyssens Veterans Foundation
Santa Barbara, CA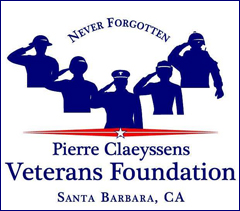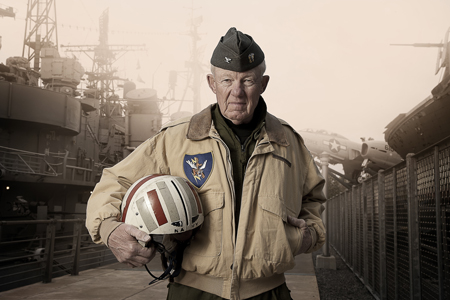 Captain Charlie Plumb has lived what he believes to be the American Dream. As a farm kid from Kansas, he fantasized about airplanes although he felt certain he would never have the opportunity to pilot one. It would be the United States Navy who afforded Plumb the opportunity to live out that dream.
After graduating from the Naval Academy, Plumb completed Navy Flight Training and reported to Miramar Naval Air Station in San Diego where he flew the first adversarial flights in the development of what would be called The Navy Fighter Weapons School, currently known as "TOP GUN". The next year, Plumb's squadron the Aardvarks launched on the Aircraft Carrier USS Kitty Hawk with Fighter Squadron 114 to fly the Navy's hottest airplane, the F-4 Phantom Jet. Code named "Plumber", Charlie Plumb flew 74 successful combat missions over North Viet Nam and made over 100 carrier landings. On his 75th mission, just five days before the end of his tour, Plumb was shot down over Hanoi, taken prisoner, tortured, and spent the next 2,103 days as a Prisoner Of War.
Following his repatriation, Plumb continued his Navy flying career in Reserve Squadrons where he flew A-4 Sky Hawks, A-7 Corsairs and FA-18 Hornets. His last two commands as a Naval Reservist were the on the Aircraft Carrier Corral Sea, and at a Fighter Air Wing in California. He retired from the United States Navy after 28 years of service.
To this day, Captain Plumb continues to fly left-seat at every opportunity. He has personally owned 8 airplanes, the most treasured being a World War II PT-19 Open-Cockpit Antique. He currently owns a Rutan-designed experimental single-engine Long-Eze.
Military Aircraft Flown: T-34 Mentor, T-2 Buckeye, F-9 Cougar, F-11 Tiger, F-4 Phantom, A-4 Sky Hawk, A-7 Corsair, FA-18 Hornet, F-16 Falcon
Aircraft Carrier Assignments: USS Constellation, USS Lexington, USS Oriskany, USS Kitty Hawk, USS Coral Sea, USS Abraham Lincoln
Medals and Decorations: Silver Star, Legion of Merit, Bronze Star, (2) Purple Hearts, Air Medals, Presidential Unit Citation, P.O.W. Medal, Vietnam Service Medal, Republic of Vietnam Campaign Medal with 1960's Device, and Combat Action Ribbon.
Program includes bagpipers, USMC Color Guard, Pledge of Allegiance & Invocation with live music,
guest speakers, and singers to bring to life the PCVF motto - "Never Forgotten."
All are welcome to join us. Seating area provided.
Please arrive no later than 9:45 am.
Ceremony starts at 10:00 am sharp and culminates with a flyover of vintage war birds doing two passes –
the final one "The Missing Man" pass.
For your comfort, please wear sunscreen or hats and comfortable shoes to traverse the cemetery grounds.
Free parking.
More information: (805) 259-4394